Heather Albrecht
Registered
Heather is a passionate and committed psychotherapist, mindfulness teacher and corporate trainer, having trained in humanistic, mindfulness-oriented and body-based psychotherapy.

Heather has been trained by Jon Kabat-Zinn and Saki Santorelli (aspects of MBSR and residential retreat), Rick Hanson (Positive Neuroplasticity teacher training), Erik van den Brink (Mindfulness Based Compassionate Living teacher training) and Bob Stahl (MBSR/MBCT practicum and retreat), and also trained in Mindful Schools Curriculum.

Heather held senior leadership positions in the world of communications for over 30 years in Toronto, New York and Sydney. The last 15 years in corporate training roles. She has led trainings in Australia, Asia and North America and lectured at UNSW.

Heather is a long time student of yoga and meditation in the Insight tradition and has established a personal mindfulness practice that has deepened significantly over the decades, supporting her in flourishing in these uncertain times. She understands the realities and practicalities of practicing mindfulness in daily life and work and brings to all her teaching a down to earth manner with much warmth and a sense of humour.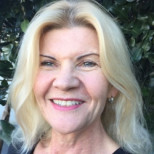 Sunshine Coast
http://mindfulwellbeing.com.au/